How Euro NCAP's Safety Rating Affects Car Insurance
There are lots of factors involved in calculating the cost of car insurance premiums, and one of the bigger considerations for an insurer is how likely it is that a driver or passenger will be injured if the insured vehicle is in a road accident.
In this article, we'll explain how a car or van's safety is assessed by an organisation called Euro NCAP, and how that rating is applied to your car insurance.
Every new car brought to market must meet a minimum vehicle safety standard. Euro NCAP sets the ratings and these are partly responsible for determining which insurance group a car is placed in.
Why safety ratings affect car insurance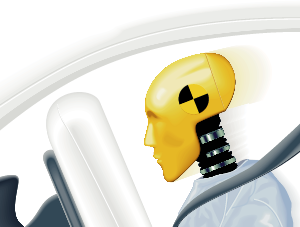 Primarily, safety ratings give some indication of how well protected both occupants and pedestrians might be in the event of an accident. They also assess how a car's built-in technology might help to prevent accidents and injuries in the first place.
That's essential information if you're buying a car, but it's important to the car insurance industry, too. The Association of British Insurers (ABI) operates the Group Rating System, which provides insurers with the relative risk of all cars.
Euro NCAP's safety ratings can tell the ABI, for example, how the risk of an accident is mitigated in cars with good driver assist technology. Fewer accidents obviously mean fewer insurance claims.
Cars with good seat and head restraint design might reduce whiplash injuries – considering the high impact of whiplash claims on insurance companies, that's of significant interest to your insurer.
Another safety factor which affects your insurance is pedestrian protection. Personal injury claims can be reduced in cars which lower the risk of serious injuries. Changes in design to the front end of a car in particular (bonnet, windshield and bumper), as well as development of autonomous braking systems which recognise pedestrians, have helped to improve pedestrian safety.
How safety ratings are decided
Euro NCAP's ratings assessments focus on four important areas:
Adult occupant protection
Child occupant protection
Pedestrian protection
Driver assist technologies
A variety of impact tests on both occupants and pedestrians are carried out and evaluated. Other assessments determine a car's ability to accommodate child restraints and child car seats of various sizes and designs. Testing is also carried out on the effectiveness of built-in technology aimed at supporting safe driving.
Find out your car's safety rating and insurance group
To find out how your car performs in each of the four main testing areas, and its overall rating, simply enter the make, model and year into Euro NCAP's Latest Safety Ratings.
You can find out your car's insurance group rating at Parkers or Thatcham Research (registration required).
How 4 Young Drivers can help
Do you own a car in a high insurance group? Struggling to find cheap insurance? Perhaps we can help.
Released On 20th Jan 2016