Ford Focus RS Car Insurance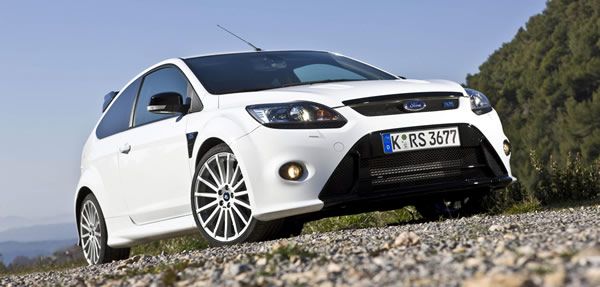 If this is your dream car, ask 4 Young Drivers for a quote to insure your Ford Focus RS, whatever your age and driving history. Our contacts in the high performance car market can help find you a great policy.
Got a different type of Ford Focus? Give us a call for a quote!
*Calls cost 7p per minute, plus your phone company's access charge.
Insurance groups
Insurance groups for the Ford Focus RS currently range from 19 to 38, depending on the actual model (source: Parkers), but as these things change from time to time, we'll give you the most up-to-date information when you get in touch for a quote. Whatever your model, 4 Young Drivers can help you find great cover.
A closer look at the Ford Focus RS
Let's take a look at the Ford Focus RS. Ford is one of the most established names within the car manufacturers industry across the whole world. In fact back in the 1980's and 1990's Ford dominated the affordable performance car industry with models such as the Escort RS turbo and the Sierra Cosworth.
Over the past decade the Ford motor company has been outclassed and out-muscled by other companies such as Honda and VW, but Ford have hit back in style with the release of the Ford Focus RS. The Ford Focus RS was first brought to the attention of the public in 2000 as a concept car but has since made the jump from concept to reality with cars going on sale in 2002. These cars still boast a very high spec, and with limited numbers produced, Ford has managed to secure the prestige associated with all limited edition RS series.
Now we know what you're thinking, a Ford Focus is a family car not a performance machine. Ford have tried to overcome these preconceptions with aggressive body styling and a performance to match. In our opinion they have succeeded.
The performance of the car is not to be overlooked either, with a 2.0 litre turbo-charged engine bringing the performance of the machine up to date and out classing many of its rivals. The turbo charged engine produces 215 bhp and gives the car a 0-60 mph of 6.4 seconds with 0-100 mph measured at an impressive 9.8 seconds. With a top speed of 144 mph this Ford Focus seems to be worthy of the RS badge that it wears with pride.
Get great cover for your Ford Focus RS!
Go online or call *0844 573 0437 for a quote.
Other performance cars viewed by young drivers:
Related insurance information